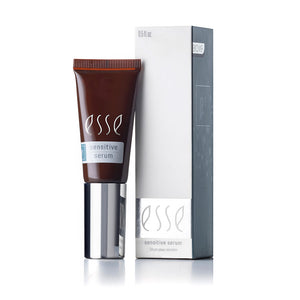 Esse Sensitive Serum
This product is:
Natural, vegan and made in South Africa. 
Good for:

All Sensitive Skin. 

Healing and protecting your skin and calming your skin's immune system.
Why we love it:
Protection – This product aims to increase probiotic microbial populations to the point where there are no available niches for invaders. This prevents activation of your skin's immune system and reduces redness and irritation.
Barrier Function – It is possible to radically improve barrier function with live probiotic microbes. With improved barrier function there is reduced redness and inflammation because fewer molecules from the "outside" reach the lower layers of skin.
Actives:
1 billion cfu per ml probiotic Lactobacillus microbes.
Size:
15ml. 
How to use:
Use in the evenings for a week or until an improvement is seen. Thereafter, reduce usage to every other day for a week and then even further to 1 or 2 times a week for maintenance only.
Ingredients:
Simmondsia Chinensis (Jojoba) Seed Oil*
, 
Caprylic/Capric Triglyceride
, 
Hydrogenated Vegetable Oil
, 
Butyrospermum Parkii (Shea) Butter*
, 
Isoamyl Laurate
, 
Lactobacillus
, 
Maltodextrin
, 
Tocopherol
, 
Helianthus Annuus (Sunflower) Seed Oil
, 
Ascorbyl Palmitate
, 
Vanillin
, 
Gamma Decalactone
*ingredients from organic farming
100% of the total ingredients are from natural origin
69% of the total ingredients are from organic farming