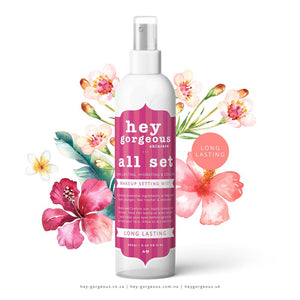 Hey Gorgeous Makeup Setting Mist
This product is:
Vegan and made in South Africa. 
Good for:
Helping to set your make up so it looks fresh with a radiantly healthy glow. Can also be used on bare skin for extra moisture too. 
Why we love it:
This invigorating face spray is energised with electrolytes and Rosewater to boost skin's radiance.
Size:
250ml

How to use:
Mist skin before applying makeup to help it set and use as the finishing touch to your beauty routine. Hold it 20cm from your face and spray it on in an "X" and "T" motion. Apply throughout the day to refresh. 
Ingredients:
Floral Distillate, Squalane, Vitamin C, Rose Otto, Rose Absolute.