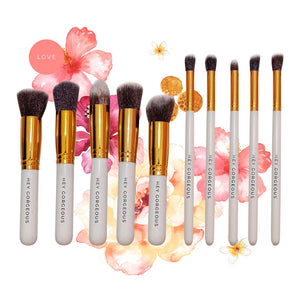 Hey Gorgeous Makeup Brush Set (11 pieces)
This brush set is good for:
All your makeup application needs, including foundation, concealer, blush and eye shadow. 
Why we love them:
This 11 piece cosmetics brush set is made from bamboo and quality synthetic hair to ensure perfect and professional results. The set includes:
1. Mini flat kabuki brush
2. Mini powder brush
3. Flat Kabuki brush
4. Powder brush
5. Blush brush
6. Foundation brush
7. Blending brush
8. Precision brush
9. Liner brush
10. Flat eyeshadow brush
11. Gorgeous Brush Case
How to use:
Mini and Flat Kabuki Brushes:
The flat-top angled kabuki foundation brush should be used to apply a liquid or cream foundation, blush, or bronzer. The angled brush head hugs the planes and curves of your face for even application every time. To use, apply product in small, circular buffing motions, angling the brush with the contours of your face.
Powder Brushes:
To use a powder brush for foundation, dip the brush into the powdered product—applicable for both pressed and loose powders—and swirl in circles or sweeping strokes until you achieve even coverage. Pro tip: it's easier to ensure adequate application if you start in the middle of your face and work your way out.

Blush Brush:
A blush brush is similar to a powdered brush. Brushes for blush are generally a little stubbier, however, as they are covering a smaller area than a powder brush. When applying blush, try to avoid Raggedy-Ann-reminiscent red circles on your cheeks.
To avoid the doll look, diffuse blush outward while applying to the apples of your cheeks. Start with light pressure and test out the pigmentation on your wrist or the back of your hand. It's much easier to build colour than it is to wipe it away after it's already been applied.