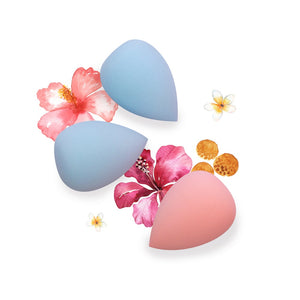 Hey Gorgeous Beauty Sponges (2 pack)
These sponges are good for:
Applying and blending foundation and concealer.
Why we love it:
These sponges help to seamlessly blend makeup. They also make it easier to reach the awkward areas that many brushes can't (around the nostrils, under the eyes).
They can be used to apply skin-care products like moisturisers and serums, as the sponge won't absorb them, which means less mess on your fingertips and more of an even application.
How to use:
1. Dampen your blender. (Never use dry - all this will do is absorb all your product!) You'll also know when it's time to replace your blender if it does swell to twice it's size any longer.
2. Bounce don't drag. Avoid dragging the blender across your face. Instead, bounce the sponge for seamless blending (with no streaks or lines of demarcation) and the most product payoff on the skin. You can either use the tip or base. 
3. Put a little foundation onto the back of your hand hand, and then dab the blender onto the product. Work from the centre of the face-outwards with soft bouncing/dabbing motions for flawless, natural looking foundation.